President Yoweri Museveni has lashed at leaders of who misuse their offices by engaging in bribes which have derailed service delivery. The president says many leaders have abused their offices for selfish interests yet these offices are allocated to them by God.
The president was officiating at the 21st edition of national prayers breakfast which was held this morning at Nakasero pearl of Africa hotel. Museveni says this has been a very big problem which has affected many of the African leaders.
The president who was flanked by his wife Janet Kataha Museveni has quoted various bible verses which he lamented that it was God who has directed him to deriver before this congregation.
                                                                          Janet Museveni
While delivering his message as a keynote speaker pastor John Enlow asked leaders to serve the purpose under which they have been appointed to serve. He has also quoted the bible verse, we are the salt of the earth there for the leaders are supposed to serve their propose.
This year's national prayers breakfast which has been celebrated under the theme the power of character in leadership has attracted leaders who included parliamentarians and other leaders were included the speaker of parliament Rebecca Kadaaga who quoted cautioned leaders to be like Deborah that is considered to be the greatest judges in Israel.
Among the guest who has graced this ceremony is the proprietor of salt media pastor Aloysius Bugingo who hailed the various message from the various
speakers but particularly the president.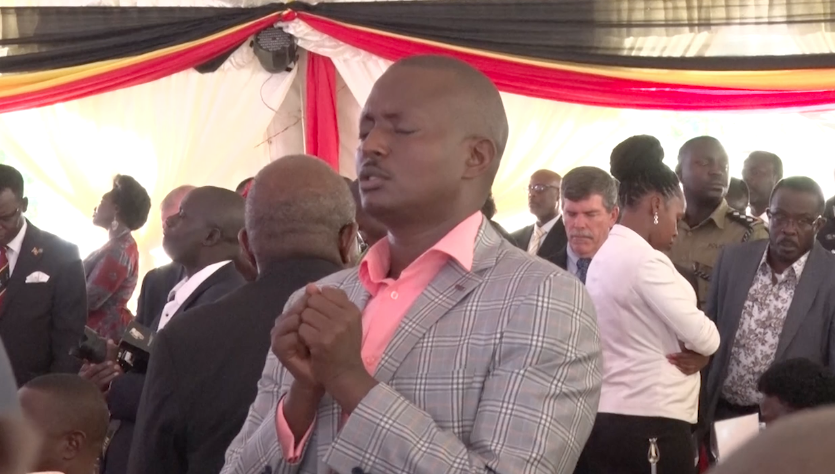 Pr Aloysius Bujjingo
The function was also witnessed by the first lady prayers Jannat Museveni asking God to bless Uganda.
The organizer for this event the state minister for finance David Bahati who says this event which has been organized gets better each year. Among those who have attended included Agago county, Mp Edward Makmot also explains the relevancy of having these prayers.